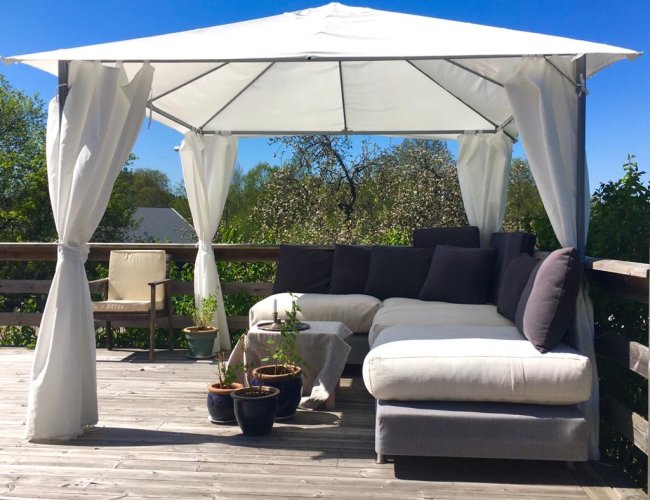 Paradise Pavilion
Publicerad 4 june, 2021
I have now been spending a few days enjoying that spring/summer is becoming in Sweden, and setting up our outdoor living space for which I have been gathering things for a few months.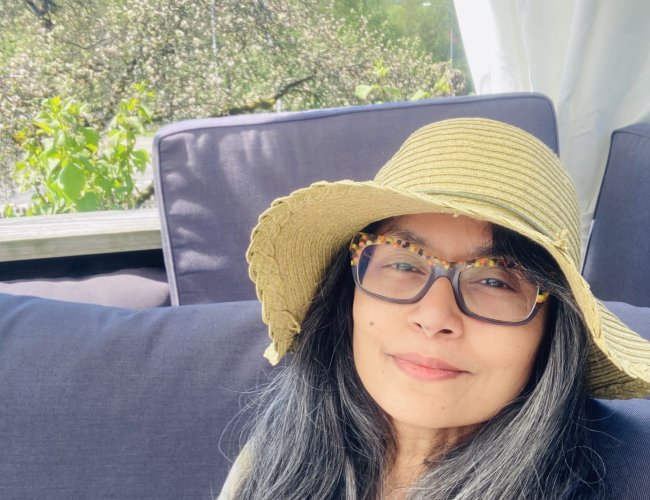 I am currently - for the past two years or so - obsessed with using what I have. I want to know that what I have are things I love and use and what I no longer need is being sent off into better use. I have gotten through a few areas such as food storage, wardrobe and office. Yet, here is still much to do in this project in our big house where we also inherited a lot of stuff in the purchase (pleasant problem).
My summer pavilion paradise project was a perfect opportunity to excercise this obsession. I bought only second hand what I needed. The pavilion (€30 on Blocket. Yes you saw the price right!) Even with the driving to pick up the things the total cost is very low and things get recylced. You do have to factor in the travel costs to the purchase price and in this case for us it was well worth it.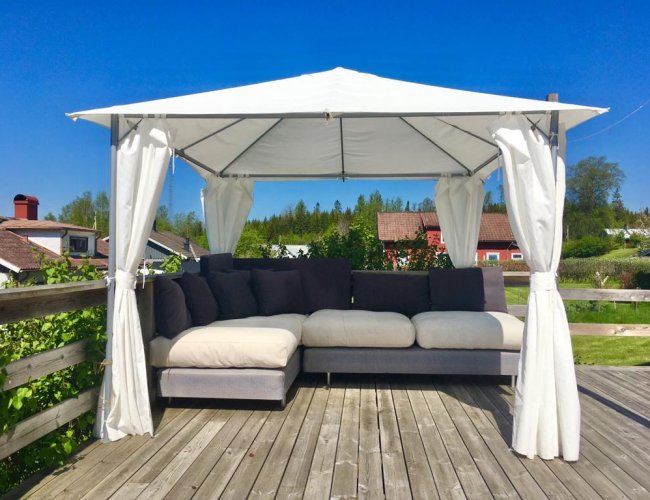 The big white cushions (€80 on marketplace) and some grey outdoor furnishings cushions (€35 on marketplace). Some of the other grey cushions i already had from a sofa which I sold away without selling the cushions (YES - you can do that :-D). Two old beds we inherited from the house are being put to good use as the base for this construction and I invested in a large furniture cover to keep everything dry when the weather turns.
The result has been a very cosy space to rest, eat, hang out and even work from.
The next rainy days will see me digging up stuff from the cellar to sell or give away. I also love picking something up and going 'what is this for and can it be used for some other purpose and finding new creative uses for things. I love having what I use and using what I have. So this post is really an ode to recycling, up-cycling and re-purposing our possessions.